By Murthy Mathiprakasam, Principal Product Marketing Manager, Informatica
First published on Informatica's Blog: Perspectives.
You might think this year's Valentine's Day is no different than any other. But make no mistake – Valentine's Day has never been more powered by technology or more fueled by data.
It doesn't get a lot of press coverage, but did you know the online dating industry is now a billion dollar industry globally? As technology empowers us all to live and work in nearly any place, we can no longer rely on geographic colocation to find our friends and soul mates. So, it's no surprise that online dating and social networking grew in popularity as the smartphone revolution happened over the last eight years. Dating and networking are no longer just about running into people at the local bar on a Friday night. People are connecting with one another on every consumer device they have available, from their computers to their tablets to their phones. This mass consumerization of devices and the online social applications we run on them have fundamentally changed how we all connect with one another in the offline world.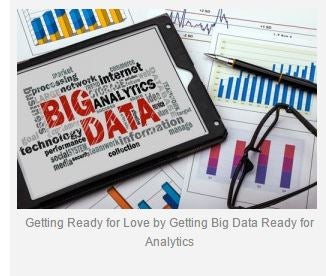 Big Data Case Study 1: Online Dating
There's a lot of talk about big data in the tech industry, but there isn't a lot of understanding of how big data actually affects the real world. Online dating serves as a fantastic example here. Did you know about 1 out of 6 people in the United States is single and that about 1 of 3 of them are members of an online dating site?[1] With tens of millions of members just in the United States, the opportunity to meet new people online has never been more compelling.
But the challenge is helping people sift through a "big data" store of millions of profiles. The solution to this has been the use of predictive recommendation engines. We are all familiar with recommendation engines on e-commerce sites that give us suggestions for new items to buy. The exact same analytics are now being applied to people and their preferences to help them find new friends and companions. Big data analytics is not just some fancy technology used by retailers and Wall Street. The proof is in the math: 1 of 18 people in the United States is using big data analytics today to fulfill the most human needs of all in finding companionship.
Big Data Case Study 2: Valentine's Day Shopping
However, this everyday revolution of big data analytics is not just limited to online dating. US News and World Report[2] estimates that a whopping $19 billion dollars will be spent around Valentine's Day this year. This spending includes gifts, flowers, candy, jewelry and other forms of celebration. The online sites that sell these products are no foreigners to big data either. Organizations with e-commerce sites, many of whom are Informatica customers, are collecting real-time weblog and clickstream information to dynamically offer the best possible customer experiences. Big data is not only helping to build relationships between consumers, but is also building them between enterprises and consumers.
In an increasingly data-driven world, you cannot connect people unless you can connect data. The billion dollar online dating industry and the $19 billion dollar Valentine's Day industry would not exist if they were not fueled by the ability to quickly derive meaning out of data assets and turn them into compelling analytical outcomes.
So on this Valentine's Day, I invite you to connect with your customers and help them to connect with one another by first connecting with your data. There is no better way to help get ready for love than by getting big data ready for analytics!
---
[1] http://www.statisticbrain.com/online-dating-…